"Contact me now on WhatsApp for your Personal appointment"
WhatsApp : +65 9754-3540
Singapore
Blk 16, Toh Yi Drive #06-43
Singapore 590016
Australia
3 Hanrahan Loop
Kardinya 6163
Perth Western Australia
Tel: +61 451-103-966
"Find your love, life and career or business direction"
Greetings everyone,
My name is Roy Rugdee. My grandfathers and father were astrologers to the Thai Royal Family. I am the 8th generation of astrologers practising the Thai Art of Astrology.
I had been taught Astrology by my father since I was eight years old. By the time I was 12, I began practising Astrology. At age 19, my father passed away and I succeeded the Rugdee family's astrological practice legacy. Thus far, I have been practising for over 50 years.
"The Rugdee Family's astrological skills and premonitions have astounded many."
(click here for past media coverages).
People who consult me come from all walks of life. Many of them are working professionals and entrepreneurs. Influential members of society such as actors, ministers and royal families have also sought my guidance. I also find myself helping mothers, couples and students. No matter who you are, you will find crossroads in your life where you have to make difficult decisions. Sometimes you might not even know what your options are.
The Rugdee Family Astrological Report (also found on the right side of this page) are tailored to raise your awareness about your personal circumstances and give you direction in the 12 months ahead. You can also find my general monthly predictions here.
Lastly, I believe that our paths have crossed for a reason. If you feel the need to see me in person for astrological advice relevant to your life right now, I also provide face-to-face consultations.
I wish you the best of luck in your life journey.
– Roy Rugdee
Let Roy read the stars for you...
Get your Rugdee Family Astrological Report now!
Only for $28.00
Click Here
---
Or check out our youtube videos for the general predictions now!
Click here
MEDIA COVERAGE
---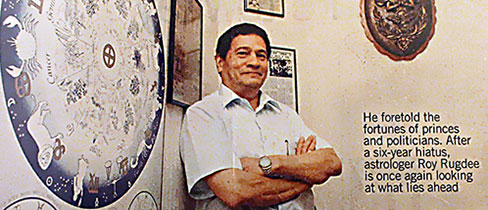 Back to the Future (2006)
"He foretold the fortunes of princes and politicians. After a six-year hiatus, astrologer Roy Rugdee is once again looking at what lies ahead"